Posted on by Melanie Bittinger
If you would like to share a special during the worship service please see a member of the Music Worship Committee: Theresa Brokaw (B), Peg Horn (D), Joanna Bailey (B), Heather McCune (D), Tami Vaughn (B) and Lori Shipley (D). (B=Butler Site, D=Danville Site)
For a special blessing, click on the tiny link below to watch and worship with us on youtube: 
https://youtube.com/playlist?list=PL9VkucieDwFgLczWO4rzhh6UsG6ABpxLi&si=WzxbKl0Cu85RZH5n
Below is only a partial list of our gifted individuals sharing their talents to praise Jesus. If you would like your music video featured on this page, please see a member of the Website Committee including Melanie Bittinger (B) and Ashley Wittel (D).
"Salt and Light" Tara Oswalt and her brother Chad Bowman singing Salt and Light song by Lauren Daigle Butler Site
"Can I Get a Witness" Theresa Brokaw singing "Can I Get a Witness" cover, Original Artist The Sound Butler Site
"The Commission" Bailey & David Kelly with Sydney Polen singing "The Commission" Original Artist Cain Family Butler
"Let Go, Let God" Mariah Miller, her children and Anne Doup "Let Go, Let God" Artist Jordan St. Cyr Butler Site
"How Beautiful is the Body of Christ" Annete Statzer Artist Twila Paris, written by Ann Wilson Butler Site
The men were surprised they were the Special Music and so many spontaneously blessed us with their amazing voices!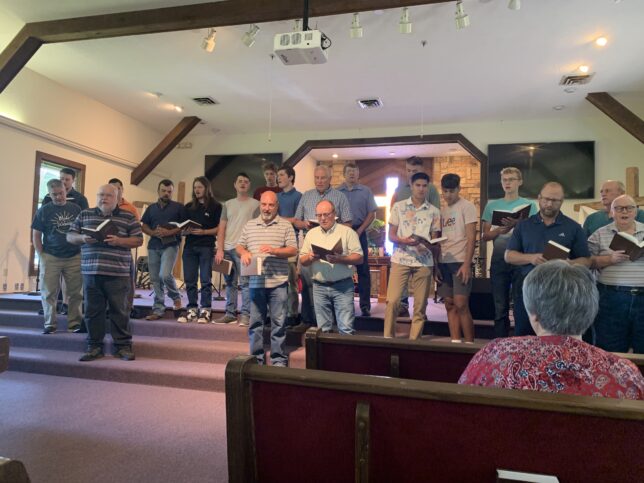 "The Blessing" The Shira Family sang at both sites today in honor of Dean and Linda's 60th anniversary and 80th birthdays. "The Blessing" Artists Kari Jobe and Cody Carnes . Both Butler and Danville sites
Special Father's Day Music by Matt Domka and Stephanie Hill (Butler site)
"Wayfaring Stranger" with Betty playing penny whistle and Cathy piano accompaniment. Butler Site
Tim Bittinger gave an update on mission trip to Nicaragua February 2023. The Music/Sound on the video pictures did not come through but they wanted to share part of the impact and lives that were touched. Thank you for all the support and prayers. Butler Site
"The Healer" Annette Statzer written by Gerald Crabb, Butler Site.
"Revelation Song" Riley Peterson Artist Kari Jobe, Butler Site.
"Do You Hear What I Hear" Public Domain sang by Betty, Annette and Melanie aka Thompson Tradition, Butler Site
"Speak" Bailey, her sister and David Kelley Artist Bethany Music Butler Site
"Made It By Grace" Annette Statzer and Theresa Brokaw Artist The McKameys Butler Site
Annette Statzer and daughter, Joanna Bailey Butler Site
Betty and Cathy playing at both sites
"Oh, Holy Night" sang by Annette Statzer at Christmas Eve Service Butler Site
"I Am The Man Thomas" with the late Pastor Wendell Thompson PhD, Founder of his family band Thompson Tradition.